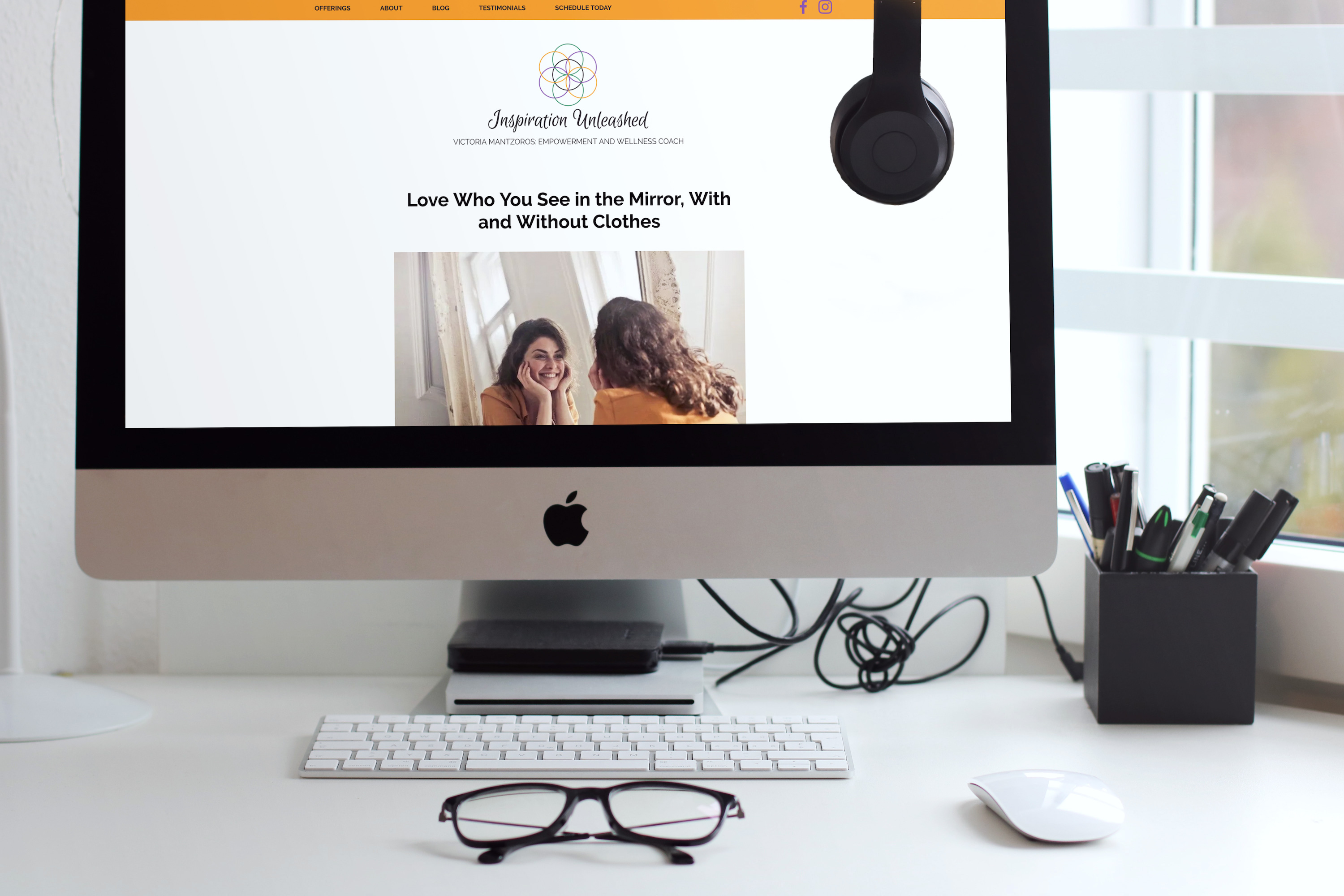 September 10, 2018
Project Overview
My Role: Designer, Client Liaison
Skills & Tools: WordPress, Adobe Illustrator
Lessons: Client management, website redesign, logo redesign
I designed and coded a child theme for a responsive portfolio site in WordPress utilizing a blank starter theme for my Mind Your Time app. Read about my process designing with helpful constraints.
Website Redesign
Victoria Mantzoros is a transformation coach whose business is Inspiration Unleashed Coaching. In winter and spring 2018, I redesigned her website and logo. We began with an initial consultation about how she wanted to grow her business. She relies mostly on Facebook to connect and communicate with clients, so the website is intended to an informational page about past events and what she can offer to potential clients online, in groups, or through individual coaching.
Throughout the site, there is a theme of gold, emerald, and purple. We chose these colors together because of how they resonant with Victoria and her clients. I assigned each of the colors to the three aspects of self that become integrated holistically through her coaching: mind, body, and soul.
Logo Design
In her original site design, Victoria used an image of several gold, intersecting circles as her logo. I used that as inspiration to focus on a simpler, clearer image that could still incorporate the spiritual aspect of Victoria's coaching. Two gold circles to represent "mind," two green circles to represent "body," two purple circles to represent "soul," and a seventh to represent the manifestation of the whole. The gold, green, and purple are used throughout the site, filled in, everywhere the mind, body, and soul are highlighted. The logo is the header on the site and the intersecting circles component on their own is the favicon. I also used the circle and color motifs to create additional logos and imagery throughout the site in the sidebars and footer as calls to action like "Schedule Today."
Victoria's site is hosted on WordPress with a domain registered through a small, local hosting company. The site is a modified version of the free edition of Type, a simple and clean blog theme. Initially, I attempted to modify the 2017 WordPress theme, which was an interesting lesson in how the different components interacted with the parallax. All this was before I had taken Content Management System, so I knew very little about modifying the PHP and CSS of WordPress, but as I took the course I learned more about how to modify different components to achieve what Victoria wished to see on the site.
Ultimately, there is vastly more work to be done on Victoria's website. When we started, the full scope of the project was unclear. The types of questions I asked during the consulting process helped Victoria to clarify what she wanted to project to potential clients. Although it felt like her answers as to what she wanted to see were continually changing, she was actually processing what she wanted to see and honing her business presentation by "thinking out loud." Simultaneously, I was in the middle of my web design certificate program at Seattle Central College and constantly learning new things. Each time Victoria and I connected to work on her site, I wanted to try out something new I had learned!
See the site for Inspiration Unleashed. 
Categorized in: Case Study, Logo Design, Website Design